Want to embark on a mission to create a cohesive series of somewhat meaningful images from thin air? This is a basic description of what I go through.
First of all, I have found every time I attempt such a thing, always and without exception, it includes these two rules:
Rule #1. It's always hard to start.
Rule #2. It's always hard to finish.
(Note: I do not speak much here of the stress, doubts and confusion involved; but they do, in fact, take up 90% of the total time spent on a project. This is the other 10%!)

Part 1: Starting is the hardest.

From the time that I know the next body of work is going to materialise in the near future, I have come to expect that it takes around two months to even get close to the first vague plan of how I might interpret the ideas that are in my head. Sometimes it feels like I'm trying to translate into a different language - which is probably truth - translating from cognitive language into visual language.
Bits of scrap paper end up strewn all over the place, in pockets and going through the washing machine, all in the quest for remembering that faint spark of an idea that just might lead to something making sense. Get it down on paper before you forget, because you will forget.
No one else knows this, but there's a full time job going on inside your head, and you're way off even doing anything yet.

My own personal style of jotting down these random ideas is the good old stick figure scribble. I can't draw to save myself and I'm not about to make any effort to try right at the time that I need to get this down on paper. You see, I have the attention span of a gnat sometimes, and get distracted very easily. As long as I can remember it now and decipher it later, it's all good.
I need to take my own advice here and remember: It's really important to eventually coax yourself into actually taking a photo…. of something. If you don't take a photo of something, then you will never ever get to the next step - which is, ummm, actually having something to work with, something to test your theories and test your processes. As I was without a human subject for the moment and knew I should use an inanimate object while I was waiting, I thought I needed a specific kind of chair. As I was venturing out to Coles the next day, there it was, up the road on the nature strip, all by itself. Just one. Thank you. I took a photo of it.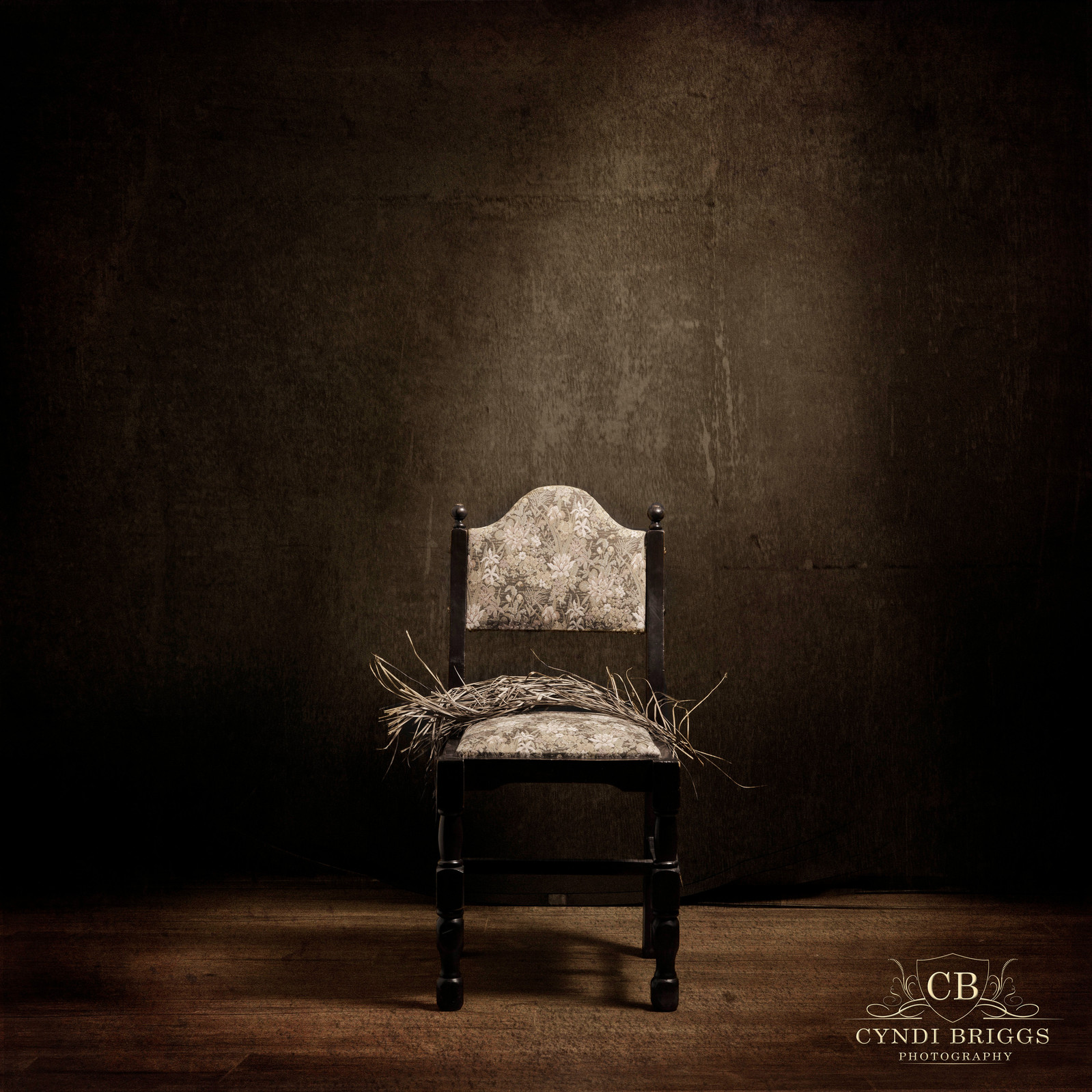 The ideas were coming together inside my head, although still confusing and random. It was initially to be about what it might be like inside the head of a Schizophrenic or Alzheimer's sufferer, although now that I've moved on from there, I can't really remember exactly what I was aiming for. Maybe that's why it didn't work out that way in the end.
Still unsure of what to do but sticking to a timeline, my lovely friend Peyton came over to be my first victim/subject. Feeling trapped and frustrated with this whole concept, guess what came out first?
That's right, trapped and frustrated: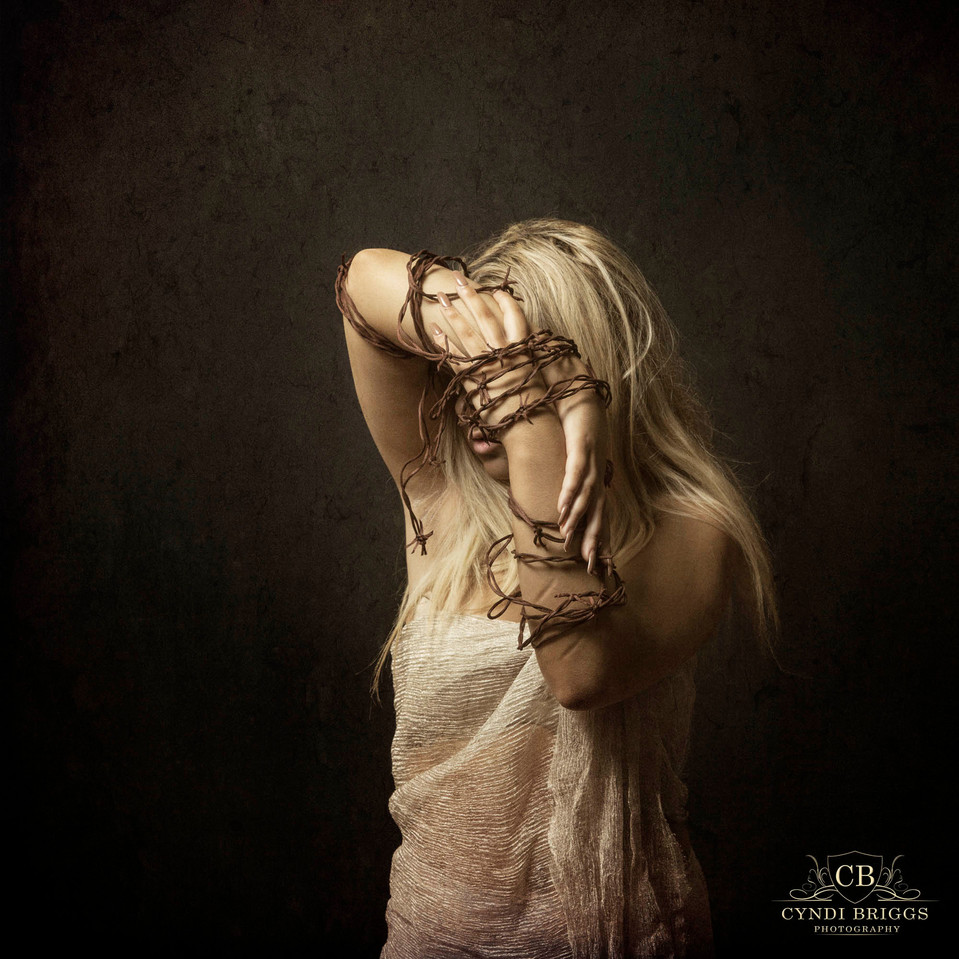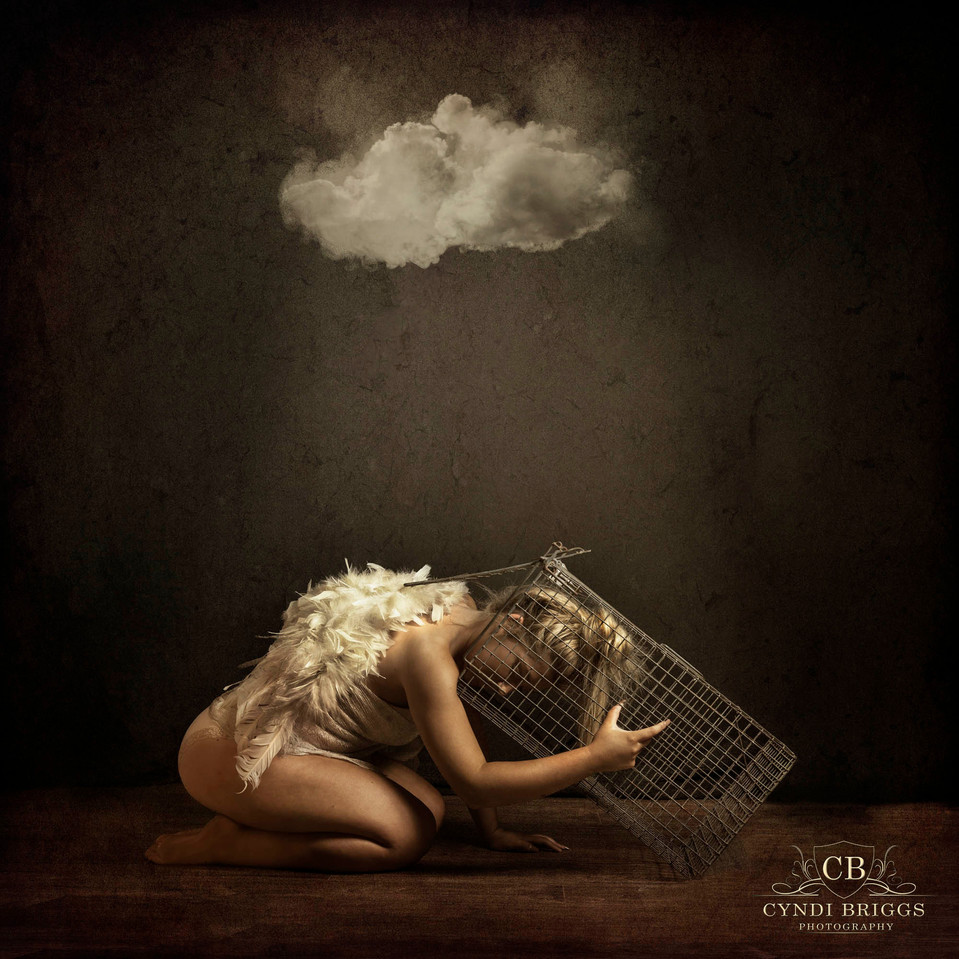 Through this first session, I slowly refined my ideas. It was to be a series of emotions inside their own rooms. In fact I don't think I even got to that point until way later… but at least something was happening.
Still shooting slightly randomly (that's how I operate), I took some vague ideas and started to brainstorm. I decided to do sets of three, of seven emotions (can you think of at least 20 separate ones?!) and off I went, kind of hoping for the best, which is no different to any other time.
I didn't hire a studio, as I didn't want a time limit and wanted things to stay set up so that I could mull over it as it was happening. Because of this, I cleared out some furniture and did it right here in the room where I create the final product in Photoshop, so start to finish is all from the same space. Doing all of this from here also explains why there are so many pet photobombs in my work.
Fast forward to the end - Time goes on… Ideas are
refined… Experimentation and post production continues, most often until 3am, as it turns out that this is my most productive time. Shoots happen on and
off over a further 6 - 8 weeks. Sleep becomes less and less (and
then even less!).
Right
at the end, when all is done and there is a definite feeling of victory, it
went for a test print.,
and then it fell apart
again, just slightly, but enough for a mental set back. You never see
what's really going on until it's a real print, and there were a myriad of
problems to fix. In short, I only did two lots of test prints and
really should have done more, but I had to take a chance and push them
through. Not an ideal situation, but definitely one to learn from.
Fortunately,
due to having a good printer that can see things that I can't (and taking note
of his comments over the last few years), I pulled it together in
the nick of time and some gorgeous prints were produced. They look ten
times better than the test prints, with richness and depth.
The feeling of victory had returned. With thanks to my lovely models Peyton and Amber (and a couple of random pets), I was done.
See the final series and Artist Statement here: http://www.cyndibriggsphotography.com.au/behind-closed-doors
And here are some before & afters that I thought you might like to see: